Guided tours with the MODEM team on Tuesdays
2023. Feb. 28.
17:00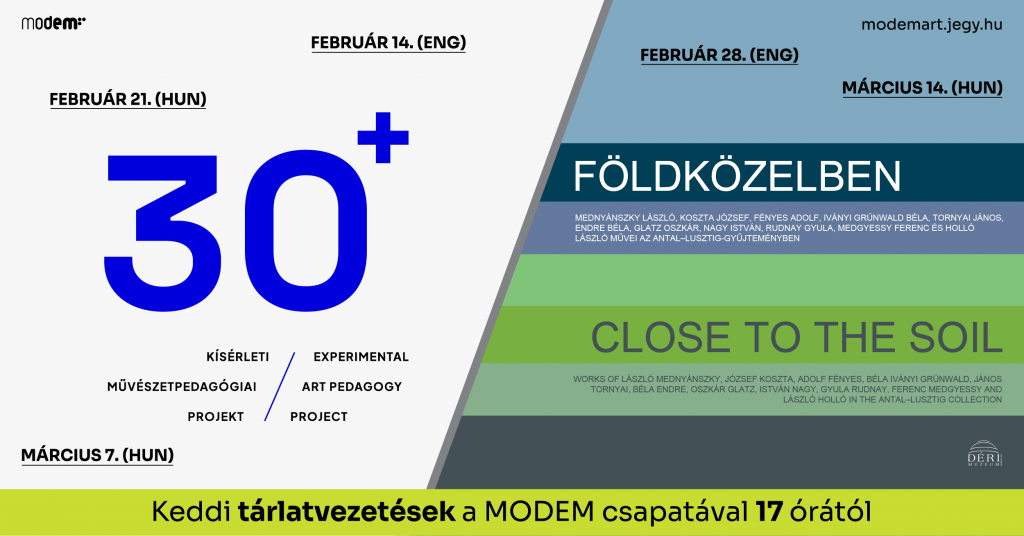 Due to the ever growing interest, we decied to continue our weekly guided tours with the MODEM team. From February 14th, we meet every Tuesday at the exhibition of 30+ and Close To The Soil.
February 14. – 30+ – Török Krisztián (ENG)
February 21. – 30+ – Don Tamás (HUN)
February 28. – Close To The Soil – Török Krisztián (ENG)
March 7. – 30+ – Don Tamás (HUN)
March 14. – Close To The Soil – Kovács Edward (HUN)
About the exhibitions:
30+ | Experimental art pedagogy project
MODEM's experimental art pedagogy project launched in 2019 will come to an end this October. As the final chord of this, the exhibition will be shown between October 23 and February 12, which will show the Hungarian contemporary art world of the 30 years that have passed since the regime change in a special way.
Close To The Soil
Works by László Mednyánszky, József Koszta, Adolf Fényes, Iványi Grünwald, János Tornyai, Béla Endre, Oszkár Glatz, István Béla Nagy, Gyula Rudnay, Ferenc Medgyessy and László Holló in the Antal–Lusztig Collection
Exhibited here, in 2023, is a selection from the works in the fourth volume forming part of the book- and exhibition-series devoted to the largest private collection in Hungary. The central motif of the exhibition is the Great Hungarian Plain. The special features and characteristics of this landscape were first observed by the painters of Romanticism, who wished to present something uniquely Hungarian – something that other countries and peoples did not have – both for themselves and for the world at large.
With their participation, visitors accept that audio and video recordings will be made during given events, which could be used for promotional purposes on MODEM's social platforms.
Online tickets soon: modemart.jegy.hu